Valentine's Day is less than one week away, and we're on to our fifth Virtual V-Day event: Vibes for Vulvas. Today we're talking about vibrators of many shapes and sizes. The items we're covering in this entry are designed to be used on the clitoris and/or vaginally, but vibration can feel great on lots of sensitive spots.*

If you're searching for a gift to give, a new thing to try with a partner, or something to treat yourself, these vibes will give you plenty of fun options to choose from!
*If you're looking for ideas for penis vibes or anal-safe vibes, check out our previous entries on those toys.
Choosing a Vibe
If you've never used a vibrator before, or if you're in the market for something new, the amount of options can feel daunting.  As folks try to narrow down their choices while shopping in our brick-and-mortar shop, we frequently hear the same two questions: "Which is the best vibe?" and "What is your favorite vibe? (This second query is usually directed toward our female-identified staff.)
In truth, the answers to those questions won't necessarily help too much when searching for the vibe that is right for your situation.
Regarding that first question, there is no single "best" vibe, much like there isn't a single "best" food-- the answer is subjective, and based on our unique tastes.  Since everybody is different, we all like varying levels of sensation and intensity from our toys, and we also have different preferences for things like toy size, shape, color, and so on.  We also may prioritize different things in a vibrator. For some people, motor strength is the most important quality in a vibe above all else, while for others, easy-to-use controls might be their number one concern.
As for that second question: the vibe that a certain salesperson, blogger, or friend says gives great orgasms?  That may indeed be a fantastic toy... for them!  But it might not be the right toy for you-- especially if you happen to have different preferences!  Instead of asking which toy is "the best" or someone's favorite, it can be more helpful to think about what kind of stimulation you like, or what you might like to explore, and consider the features of various vibes from that standpoint.
Here are some things to consider as you look for a vibe to suit your needs.
How do you want to use the vibrator?

Some people simply want a vibe solely for clitoral stimulation, while others might want the option of both clitoral and vaginal use (or both at the same time).  Some might want to experiment with G-spot stimulation.  Maybe you want a toy shape that won't get in the way if you use it during sex with your partner(s).  Choose a vibe designed to work in the ways you'd like to play.
Does the vibe have a range of speeds/intensities and functions?

When choosing your first vibe, you may not know yet how strong or soft a vibration you'll enjoy.  Choosing a vibrator that has multiple intensity settings will offer you options when experimenting with strength of stimulation.
If you've already had a vibe before, you may know how much strength/power you need, and you can search for vibes that fit your requirements. 
Additionally, you may have heard vibrator motors described as having a "buzzy" feel or a "rumbly" feel.  "Buzzy" vibes tend to feel and sound high pitched.  "Rumbly" vibes tend to feel and sound lower in pitch.  As a metaphor for comparison, think of a buzzy vibe as a mosquito buzzing, versus a rumbly vibe as a big old bumble bee humming around.  Or if flying insects aren't your thing, think of a buzzy vibe as a small zippy motorbike, and the rumbly vibe as a big Harley Davidson motorcycle. However you may think of it, many people have a personal preference for buzzy versus rumbly vibes.  If you happen to know your preference, you can search for vibes that tend toward one end of the spectrum or the other.
What is the size, shape, and "feel" you'd prefer?

Some people enjoy the feeling of a smooth, firm vibe (such as hard plastic), while others like a softer, more bendable material (such as soft silicone).
Size can also vary greatly, from long, thin vibes or short, chubby ones.  There are heavy vibes and light vibes.  And, as mentioned previously, some vibes are shaped for specific types of stimulation, such as curved with a long handle to enhance G-spot play, or contoured to fit in the palm of your hand.
Consider any additional specific features that may be important to you
(noise level, ease of controls, warranty, power source)

There are a number of vibrator options that may be important to particular users.  For example, a person with nosy roommates or curious children might want a vibe that is especially quiet and/or discreet-looking.  Depending on your hand strength or dexterity, buttons that press easily can make a big difference.  Someone who doesn't want to worry about or dispose of batteries might choose a rechargeable.  And don't forget about your favorite color options, too!
And now, on to the vibes!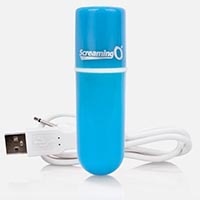 Charged Vooom Bullet
The most basic and smallest vibes tend to come in a shape that the industry calls "bullet" vibes.  They are usually only a couple of inches long and about the width of a finger and are designed to be used externally on the clitoris, or on other small, sensitive areas like nipples.  This particular bullet vibe is one of our favorites for two reasons. First, it is rechargeable, meaning you don't have to mess with the small watch batteries that power most vibes this size.  Second, Screaming O (the manufacturer) designed it's bullets to have a more rumbly motor than you typically find in tiny vibes, setting it apart from its competitors.  It is made of hard plastic, and it comes in black, blue, pink, or purple.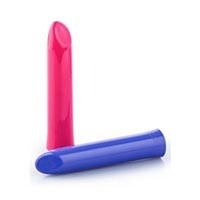 We-Vibe Tango
On the slightly longer end of the bullet spectrum is the We-Vibe Tango.  This bullet has been around for quite a few years; it has gathered a loyal following due to its rumbly motor and surprising strength for such a small toy.  Its surface is made of hard, smooth, body-friendly plastic, so it glides very easily with just a little lube. Rechargeable; available in blue or pink.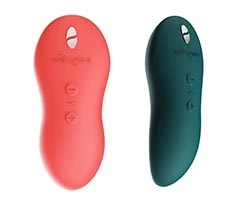 We-Vibe Touch X
The Touch, which has been around for a decade, recently got a design re-boot, and we got the new ones just in time for Valentine's Day!  The motor of the Touch X is rumbly for a small toy, and this newly released version has a little more "oomph" than the previous one.  The design of the Touch X makes it easy to hold in the palm of your hand-- you can lay it against the clitoris, but you can also use it for things like sensual massage all over the body.  Rechargeable, silicone coated, and available in green or coral.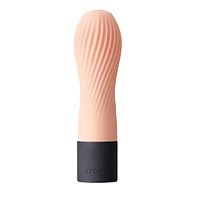 Iroha Zen
In today's vibrator market, it can be difficult to find vibes with true "low" settings, but this vibe is a notable exception.  The Iroha Zen's soft, squishy silicone combined with a gentle low setting make this a fine choice if you enjoy more subtle stimulation.  The Zen has 3 total speed levels and a single pulse pattern.  It is battery operated, requiring 2 AAA batteries (not included). Available in pink, green, or yellow.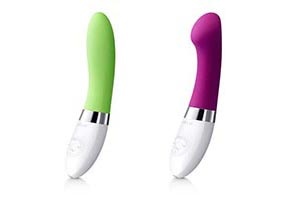 Lelo Liv and
Lelo Gigi
Another excellent option for folks who like gentle stimulation are Lelo's flagship Liv and Gigi vibes.  These silicone-coated vibes have also been around for a long time, and for good reason.  They have a good range of intensity options, from very gentle on the lowest setting (probably the gentlest we've got in our store) to pretty powerful on the highest, with lots of steps in between.  The intensity settings are independent from the pulse settings, so you can pick the pulse you like and then make it stronger or gentler depending on your preference.  Their motor is on the buzzier-feeling end of the spectrum. Both Liv and Gigi are also really, really quiet-- if you've got nosy roommates, this is a great choice.  The Gigi is better shaped for G-Spot exploration, and the Liv is tapered for ease of insertion.  Both are rechargeable and come in multiple color options.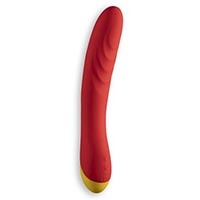 Romp Hype
Romp Hype is a relatively new kid on the vibe block, and so far we love its balance of power and affordability. Hype is rechargeable, coated in silicone, and offers 6 vibration levels and 4 pulse patterns. Plus it has a nice, long handle for ease of reaching your favorite spots.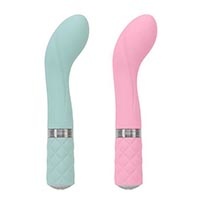 Pillow Talk Sassy
The shaft of the Pillow Talk Sassy G has some flex to it, so it will bend and flex a bit if you opt to use it for internal G-Spot play. For folks who like a little more "movement" in their toys, or who like to play more vigorously, the Sassy G will be a bit more forgiving than an inflexible G-Spot wand. The vibes on Sassy G feel nice and rumbly, and the intensity is variable. This toy is coated in silicone and is rechargeable. Available in pink or teal.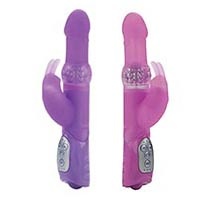 Silicone Jack Rabbit
If you think you'd like a toy that stimulates the clitoris while simultaneously penetrating the vagina, dual stimulation toys (sometimes called "rabbit style") are right up your alley.  The Silicone Jack Rabbit is a classic dual stimulation design, right down to its bunny shaped clitoris stimulator.  The portion of the vibe to be inserted into the vagina rotates-- the head of the shaft is designed to bump against the G-Spot as it goes round and round, while the bulbous area at the base of the shaft contains moving beads that stimulate the nerve-rich vaginal opening.  All said, this toy is doing a lot of things all at once! Takes 3 AA batteries (not included). Available in pink, and purple.

Xena Rabbit
The sleek and pretty Xena is another take on the dual-stimulation vibe, but without the recognizable bunny.  Instead of rotating, the wide shaft of the Xena vibrates internally against the G-Spot, while the smaller, smooth external vibe stimulates the clitoris.  This silicone-coated vibe also has a heat function to bring the toy up to body temperature before use. Rechargeable, available in purple/lilac, coral/rose, or peach/coral.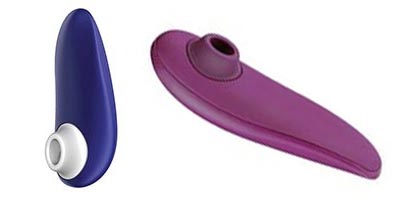 Womanizer Starlet and
Womanizer Classic
These wildly popular items are actually not vibrators at all-- they use the power of pulsating air to stimulate the clitoris.  While this might not sound like much, the sensation offered when the little rounded cup opening is placed around the clitoris is that of gentle, rapid suction and release.  It kind of feels a little like vibration, too... but the truth is that the sensation of air pulsing toys like these is quite unique and hard to describe.  But many users agree that this type of stimulation is remarkably effective, even for some reviewers who typically require intense stimulation to reach orgasm.  The Starlet is the entry-level product in the Womanizer line (offering 4 levels of stimulation), while the Classic offers 8 levels of stimulation and a longer use time per charge.  Both items are rechargeable.  The Starlet comes in blue or coral, and the Classic comes in purple.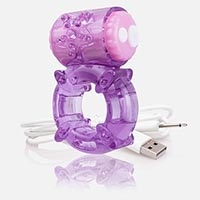 Charged Big O Vibrating Ring
We are often asked for vibrators that can be used hands-free during penetration, and vibrating cock rings are one such option.  You can wear this stretchy ring around the shaft of a penis, or around a dildo. During penetration, the vibrator mounted on the ring will come in contact with the clitoris.  How much contact you get from the vibe will depend on positioning-- some people find that if the person being penetrated is on top, they can more easily control how much contact they get with the vibe during play.  The ring on the Charged Big O is made of a very stretchy elastomer, and the vibe is rechargeable and removable for ease of cleaning.  Available in clear or purple elastomer.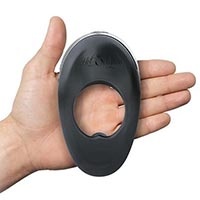 Atom Plus Vibrating Ring
Similar to the vibrating ring above, the Atom Plus allows folks to add vibration to penetration by wearing this vibrating ring around a penis.  There are a couple of significant differences in this design versus the previous one.  First this ring has two separate vibrating areas: one vibe is at the widest, broadest area of the ring, and the other is located in the smaller area on the opposite side of the ring.  This second, smaller vibe is designed to be worn behind the testicles to stimulate the perineum of the wearer.  The motors on this rechargeable silicone ring are very powerful, so you'll get a lot more "oomph" from this ring than most vibrating rings that have smaller vibration area and smaller motors.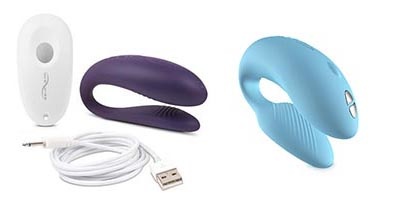 We-Vibe Unite and
We-Vibe Chorus
These C-shaped products from We-Vibe are another type of toy that allows you to add hands-free vibration during penetration.  We-Vibe originated this clever idea back in 2008: the smaller end of the C-shaped vibe is inserted into the vagina to rest against the G-Spot, while the larger end rests externally against the clitoris.  The internal portion is designed to be flat enough to allow penetration by a partner during wear.  The Unite is the entry-level product in the We-Vibe line, with a smaller internal portion and a single vibrating motor powering the toy.  The Chorus is their top-of-the-line product, which offers two separate motors (one internal, one external), joints where you can adjust the angles of the vibes, and smart phone app compatibility so you can control vibration patterns from across the room or across the world.  All versions of this toy are rechargeable.  The Unite comes in purple, and Chorus comes in blue, pink, or purple.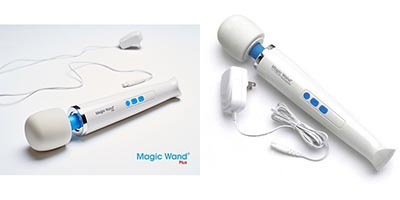 Magic Wand Plus and
Magic Wand Rechargeable
A vibrator selection wouldn't be complete without including at least one powerful wand-style vibe.  So why not include the one that started it all?  The Magic Wand (known for decades as the Hitachi Magic Wand) is one of the best-known vibes in the world, and it is beloved by many.  In recent years, the Magic Wand has gone through two new product iterations that have been game changers for this product.  The Magic Wand Plus (plug-in) and the Magic Wand Rechargeable (cordless) both have four different intensity levels, as opposed to the two offered on the Original Magic Wand.  These two additional speeds add a lower, more rumbly option, opening up possibilities for those who need a strong vibe but found the Original just too intense.  Also, the Rechargeable can be used cordless when charged or while plugged into the wall-- so if you forgot to charge it, you're still able to plug and play.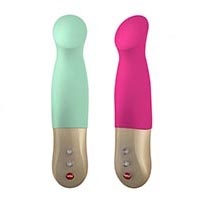 Sundaze Pulse Vibe
This innovative little gem from Fun Factory uses patented technology to move not just from zingy to rumbling vibration, but also to light tapping, pulsing, and stroking motions, and hands-free thrusting for internal or external massage.  Sundaze's settings are quite unique from other toys; there is really nothing else like it to date.  If you, or someone you love, is a toy-lover who craves experimentation, this one could be a great addition to your toolbox. Rechargeable; available in pistachio or fuchsia pink.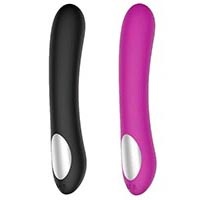 Kiiroo Pearl2
Our final entry for this post is the Kiiroo Pearl2, which can be used like a traditional vibrator while in manual mode, or as an interactive, app-controlled toy while in Bluetooth mode.  Kiiroo toys like the Pearl2 are designed to work with their FeelConnect, FeelPerformer, and FeelVR apps, and are also compatible with other Kiiroo devices and online content, so you can find creative ways to play with a partner or solo.
Books
Want to learn more about vulva pleasure and health?  Check out the fine books below, as well as some other fine titles.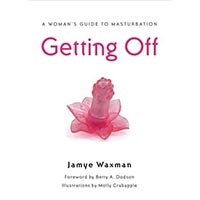 Getting Off: A Woman's Guide to Masturbation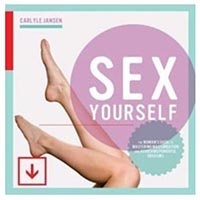 Sex Yourself: The Woman's Guide to Mastering Masturbation and Achieving Powerful Orgasms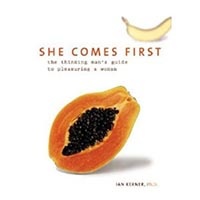 She Comes First: The Thinking Man's Guide to Pleasuring a Woman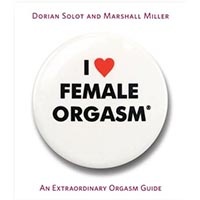 I Love Female Orgasm: An Extraordinary Orgasm Guide