For our very first Virtual V-Day 2021 entry, let's have a look at some of our favorite toys that are designed for penis pleasure and stimulation. This post features a curated selection of both new items and trusted favorites, including cock rings, masturbation sleeves, penis vibes, and even some interactive devices!

If you're looking for a gift to give, a new thing to try with a partner, something to treat yourself, or even just a fun overview of penis pleasure items, then check these out!


Cock Rings
A cock ring is worn around the base of the penis (sometimes just around the shaft itself, and sometimes around the whole package, placed behind the testicles and shaft); the purpose of cock rings is primarily to slow the flow of blood out of the erect penis.
Cock rings can help to maintain an erection for a longer period of time, and for some people can increase sensitivity to the penis. Rings can be made from soft, flexible materials such as neoprene, silicone, rubber, or leather, as well as firm materials such as metal. What material and shape any individual chooses will be based on their own personal preference-- some like wider rings, some like stretchy and small rings, others prefer metal, and so on.
We've got just a few of our favorite cock rings listed below, but there are plenty more in our wider ring selection.  We've also got rings with vibrators attached, if you're looking for additional functionality.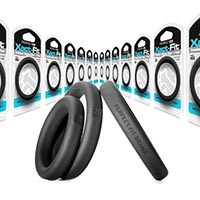 Perfect Fit Xact Fit Silicone Rings
Perfect Fit developed their Xact Fit cock ring system to help you find the right fit for you. Most rings are sized with 1/8 or 1/4 inch increments between each diameter size. Xact Fit rings increase by 1/10" increments, starting with a 1.0" diameter (size #10) and going up to 2.3" diameter (size #23). These are 100% silicone rings, making them easy to clean and care for. The silicone isn't super stretchy, so the rings are effective, but because they have some flexibility, they are easier to get on and off than metal rings. For users who are considering metal rings, these rings offer a good starting place to learn what size will work best for you.
Not sure what size to choose? Try our cock ring guide with measuring instructions, or consider the Play Zone set which offers has 9 of their most popular sizes in a single set (see below).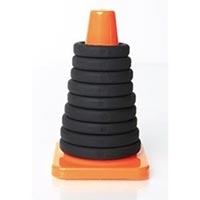 Perfect Fit Play Zone Xact Fit Ring Set
So you're not sure exactly which size ring is the best fit for you? Or maybe you want to experiment with ring combinations and placement— a ring on the base of the shaft, a ring (or two) stacked as a ball stretcher, a ring worn around the whole package. This set gives you 9 different ring sizes to choose from, from 1.1" diameter to 1.9" diameter. As mentioned above in the Xact Fit description, these rings are made from 100% silicone, and are sized by 1/10" increments. The set also comes with an awesome orange cone for storage/display.
On a different end of the spectrum from the Xact Fit rings, the Cruiser ring is super stretchy and soft. It feels squishy to the touch—almost flesh-like! For folks who like a little cushion during pushing, the Cruiser will have a nice feel to it. This is a "one-size fits most" ring, and the stretchy blend of TPR (thermoplastic rubber) and silicone is designed to give a pleasant squeeze.
Cruiser is phthalate free, does not contain latex, and meets European EN71-3 toy safety standards. Available colors: black, clear, and army green.
Oxballs is well-known for their innovative and detail-oriented toy designs, and the Cocksling 2 is one of their most popular items. Made of a very stretchy, phthalate-free TPR, this sling has a hole for your shaft and a hole for your balls, plus a pleasant notch to make your fluids flow more comfortably. This ring is super stretchy, but hugs you tight and makes everything feel nice and engorged. If you have ever jacked-off while laying in bed with your hand wrapped around the base of your cock and balls and squeezed, that's the feeling this gives—it plumps you up, and for many folks it can intensify sensation.
Available in black, clear, clear blue, and smoke.
Sheaths
Sheaths-- sometimes also called extenders-- are hollow items worn around the penis, making it generally thicker and longer overall in size.  Sheaths come in a variety of designs and materials, and there are a couple of different types, depending on your reasons for wearing them.
Some sheaths are worn to help folks who have trouble maintaining erections-- those are sometimes called "PPA" or prosthetic penis attachments.  Those items are generally on the firmer side, and they can be used to help penetrate a partner when the penis doesn't stay hard enough on its own.  Folks who are recovering from medical conditions or surgeries, or those who experience erectile issues due to circulation issues, medications, etc., might use PPAs for this purpose.  We didn't feature any PPAs during this Virtual V-Day event, but we do stock some in our shop, and we will devote an entire future class to those as well as other sexual health aids-- stay tuned for that!
The other category of sheaths includes items designed to be worn over an already-erect penis-- these sheaths add girth (thickness) and length the wearer.  They tend to be made from soft, stretchy materials, and fit more like a second skin over the hard penis.  This type of sheath can't be used for penetration by folks with serious erectile issues, due to the overall softness of the materials.  The Fat Boy, featured below for our V-Day event, falls into this category.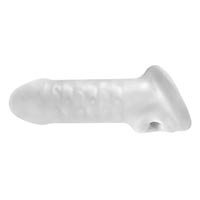 Fat Boy Thin Sheath, in 2 Sizes
Sometimes it can be fun to add a little girth to your penis, and soft sheaths like the Fat Boy are an easy way to do it. The Fat Boy Thin is a textured, soft, hollow TPR sleeve that can be worn over an erect penis during sexual activity. It is easy to put on-- there is an opening on the bottom of the sleeve for the testicles to pass through, so that the sheath can be worn without any straps. Because the Fat Boy is super soft and fleshy, it does require an erection to use it during penetration.
This sheath can add about 1/2-inch of overall girth. The outside of the sheath is smooth, and the inside is textured to provide sensation to the wearer. It can also be used as a masturbation sleeve for solo play!
The Standard-sized sleeve length is 5.5" (total length), but this item is incredibly stretchy, so the standard size will fit most average-sized penises well. The overall width is 1.5"--again, this will stretch quite a bit! There is also a 6.5" size available.

Strokers
Strokers are perhaps the best-known type of penis pleasure item in the world of sex toys.  Generally, they are made of soft, fleshy-feeling materials and are designed to be penetrated and stroked over an erect penis (using plenty of lube, of course).
Strokers can come in many shapes, sizes, colors, and textures.  Some are designed to look lifelike (like a vulva, mouth or butt), while others look futuristic or plain.  Some are incredibly simple, like the Tenga Egg strokers that start off our selection below, while others offer advanced features like vibration and virtual reality/smart toy synchronization and/or app compatibility. 
High tech or low tech, stokers can add new and fun sensations to your quality alone time, and can be a fun addition to couples play, too!
Tenga Eggs are a fun introduction to stroking toys. Made of a soft and stretchy thermoplastic elastomer (TPE), they are designed to be liberally lubed up, placed over the head of the erect penis and pulled downward in a stroking motion. They are very stretchy, but depending on your size they may or may not stretch along the entire length of your shaft. They are definitely a great item for stimulating just the head and the frenulum area of the penis, by stroking or twisting (as gently or firmly as you prefer, of course).
The inside of each egg is textured with a design that looks something like the artwork on the wrapper of the egg, so different eggs will offer different sensations. We've got 18 different variations! Depending on how sensitive you are, these textures can make a difference—some people notice the difference, but others don't feel the subtleties between designs. Either way, the soft and squishy material itself is quite lovely, and they are an affordable and fun addition to hand play!
Some trans guys find these eggs to a pleasant addition to their self-pleasure routines, as they can be used on external erectile tissue that has been enlarged via testosterone therapy. And some folks find the Eggs to be a great addition to their Magic Wand Play— adding a soft, textured cover to the head of the vibe.
The Oxballs SackJack is a combination ballsling and jerk-off toy made from Oxballs' signature SuperFLEX TPR. It is super blubbery and soft to the touch, and molds to your penis and balls to feel like you're jerking off in a second skin. The SackJack wraps you up nice and snug, so you feel every movement as you jerk and tug.
SackJack's shaft is lined with nubs and ridges to add sensation as you use it (use plenty of water-based lube), and the opening on the end means you can piss with it on, and you can poke your head out for access/action as well. The inside of the ball sling has a ribbed ring designed to grip your balls and keep them down in the sack portion. There are two small openings, one under each nut, for drainage.
Available in clear frost and metallic steel colors.
Pop-Off is a hybrid masturbation sleeve that combines a number of fun features with a great price. Pop-Off is a palm-sized, soft TPE stoker housed in a hard plastic case with removable caps on both ends— the case doubles as a storage container. The plastic case has a button on the side which allows you to add some pressure to your play (a feature often lacking in hard-case strokers). The toy is open on both ends, featuring a slightly different texture on either side, and the inner sleeve is removable if you want to use it without the case. The Pop-Off gives you a visually stimulating experience, too (the clear, textured inner material allows you to see yourself as you penetrate the sleeve).
Tenga has long been known for its uniquely textured masturbation sleeves. Many of their original products were designed to be disposable after only a few uses; the Tenga Flip series is the first product line that they designed specifically for a much longer lifespan. The Flip Zero is the second, much improved iteration of Tenga's original Flip design— the insertion point is now seamless, providing a perfect seal for no lubricant leakage. Because the item is closed at the end during use, there is a distinct feeling of suction during the retreat or "pull out" portion of the stroke. Intricate internal details on the TPE sleeve offer great sensation. The best part— you can open up the sleeve after use to thoroughly clean it and allow the material to dry before storage. No more slimy, moldy toys in your tool box!
Available in black or white (the black version of the Flip Zero uses a slightly firmer elastomer than the white version, offering more intense sensation).
Kiiroo Keon is a smart, automated masturbator designed to to work in concert with select 2D and virtual reality interactive adult content, and to connect to interactive webcams.
While its interactive capabilities are plenty to be excited about, the Keon is also a good option for those looking for a stroker that does the work for you. Controlling the speed and length of the stroke is at your fingertips with KEON. In its shortest-stroke, fastest mode, Keon has the ability to reach speeds of up to 230 strokes per minute.
For an automated stroker, Keon's design is relatively compact and designed for an easy grip. Kiiroo's Feel Stroker (included in this combo pack) is designed to fit perfectly in Keon. Because the Feel Stroker is removable, it is replaceable-- and you can always use it on its own if you wish.
This combo pack includes both Keon and a Feel Stroker.

Penis Vibes/Stimulators
Folks don't often think of penises when they hear the word "vibrator," but vibration can not only feel great on the penis, it also can help bring blood flow to the area, and can sometimes help those who have issues getting an erection or reaching orgasm.  The penis does not need to be erect for orgasm to occur, and vibration against the frenulum/head of the penis can often bring orgasm for folks who might not be able to do so otherwise.  Not to mention that vibration can just feel plain awesome, regardless of your ability to get an erection! 
The design of the Flip Zero EV is nearly identical to the Flip Zero (described above in the Strokers section), with the addition of intense vibration! The Tenga Flip Zero EV Vibrating Stroker adds strong, rumbling vibrations from within the elastomer sleeve via two separate motors, bringing another level of stimulation to this popular Flip design. Because this is a traditional-style stroker that adds vibration, you do need an erection to be able to penetrate the material.  This item is rechargeable, with a 90 minute charge time providing for 40 minutes of use.
Available in black or white (the black version of the Flip Zero uses a slightly firmer elastomer than the white version, offering more intense sensation).
Most of the toys in this section are designed for use on an erect penis—but the Hot Octopuss Pulse series is unique in that it can be used on penises that are flaccid or erect—or anywhere in between!
The Hot Octopuss Pulse Solo Essential uses a unique oscillating PulsePlate to stimulate the penis. The Pulse is designed to deliver a unique and powerful orgasm, and can be used in more than one way. When used with lubricant, the Pulse becomes a revolutionary next-generation stroker on an erect penis. The Pulse can be slid up and down along the length of the shaft. Alternatively, the Pulse can be used as a static (non-moving) stimulator. In this case, the PulsePlate is designed to provide a throbby stimulation directly to the frenulum (the underside of the head of the penis). This stimulation can produce an orgasm quite unlike more traditional methods of masturbation. You do not need an erection to use the Pulse in this way!
Pulse's surface is coated in a matte silicone, and the silicone "wings" that wrap around the shaft are flexible to accommodate different widths. The back is made of ABS plastic. Pulse is rechargeable via the included USB cable.
The Hot Octopuss Pulse III Duo is similar to its sibling the Pulse Solo (above), but it is also designed with a couples play option. Duo has a separate vibrating area on the smooth underside of the toy, so that it can be used to stimulate a partner at the same time in certain positions (see product image gallery).
With a separate on-off/function button and up/down intensity buttons, the Pulse III Solo is easy to control-- plus you've got the option of the included remote control to make adjustments during play even easier. There are multiple levels of intensity, as well as several pulse patterns to choose from.
TITAN by KIIROO is a handheld penis stroker with touch-sensitive vibration technology. It features a soft inner TPE sleeve that houses 9 bullet vibrators. This series of bullets surrounds the penis with sensation and intensifies the masturbatory experience. Because this is a traditional-style stroker that adds vibration, you do need an erection to be able to penetrate the material.  
Play alone and enjoy the many different modes and speeds that TITAN has to offer. As if that weren't enough, this interactive masturbator is fully teledildonic! Connect the TITAN to one of over 4,000 interactive videos on a range of different content platforms. Feel every movement made by your favorite stars, whether it is in 2D or VR.
You can also connect to your partners' KIIROO devices from anywhere in the world. Feel every movement they make through the vibrations on your device. Share your pleasure with them. Use the touch-sensitive pads to control the speed and intensity of the vibrations or strokes on your partner's device.
If you've heard of the Womanizer (a toy designed for clitoral stimulation), you've likely heard of their very cool "Pleasure Air" technology that shook up the sex toy world some years ago. The ArcWave Ion is the first toy to apply Pleasure Air tech for use on the penis!
Experience a new type of orgasm as unique pulsating airwaves stimulate sensitive Pacinian pleasure receptors in the frenulum. The frenulum is little sweet spot on the underside of the penis where your foreskin meets the base of the head (the spot is still there even if you have been circumsised). It looks like a small V. The Arcwave Ion is designed to stimulate that zone, which is sensitive on many people.
Cleaning the Ion is easy-- the innovative twist-to-open mechanism allows you to efficiently open and rinse Ion after use.
Powered by a USB rechargeable Li-Ion Battery. Ion runs up to 70 mins on full power, and has a 2 hour charging time.
Books
Want to learn more about penis pleasure and health?  Check out the fine books below, as well as the rest of our selection.