Today's episode of Virtual V-Day has us looking at some of our favorite toys that are designed for anal pleasure and stimulation. This post features a curated selection of both new items and trusted favorites, including plugs, beads, anal-safe vibes, and tails!

If you're looking for a gift to give, a new thing to try with a partner, something to treat yourself, or even just a fun overview of anal pleasure items, then check these out!
A quick note: In this post, there is a category of anal toy that we're not covering, and that is toys that are specifically designed for prostate (P-spot) stimulation.  But never fear-- we will be talking about them next week! Check out our Virtual V-Day event and blog entry on February 1 for P-Spot (and G-Spot) specific toys.
Anal Play Safety Tips!
Rule 1: Choose a toy with a flared base
At first glance, clever observers will notice a similarity that is shared by all the toys pictured below. That is, each toy has some kind of flared, wider area at its base to prevent the toy from accidentally slipping all the way into the anus during use.  Once something is all lubed up and inserted into the butt, it can easily keep traveling farther... unless there is something to physically stop that from happening!  So when choosing a toy for butt play, make sure you've got a flared base to keep you safe and prevent any unwanted trips to the emergency room for toy removal.
Rule 2: Use lube-- and plenty of it!
Unlike the vagina, the anus does not produce its own lubrication, so adding lube is a necessity for butt play!  We've got some specific lube pointers at the end of this piece, but suffice it to say that you'll need body-safe lubricant, and you shouldn't be afraid to re-apply it as needed to make your experience more pleasurable.
Rule 3: Communication and care is key
Anal sex sometimes takes a little practice-- folks often start out with smaller butt toys first to see how they enjoy it, and then go from there.  When experimenting with new toys or new kinds of sexual play, it is a good idea to go slowly and communicate clearly about how things feel.  This is especially true with anal play.  Anal sex should not hurt!  If something doesn't feel right or feels painful: stop and reassess the situation. Do you need more lube, a smaller/different toy, to take a break, or to change to some other activity entirely?   Be sure to check in with yourself and your partner frequently, and go slowly to ensure that everyone is having a good time. 
Plugs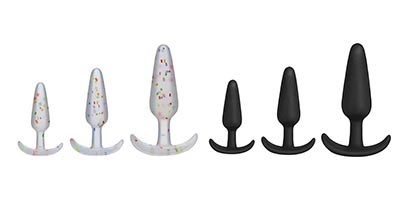 Mood Naughty Set, in black or confetti Pride edition
These basic plugs are simple in their design and affordable. Made from 100% silicone, they offer a tapered head for easy insertion, a narrow neck to help keep them in place, and a contoured T-shape base for comfort. This set includes 3 increasing sizes, for those who are trying to work up to bigger things. A 3-plug set is a great starter kit, but if you don't need all 3 sizes you can buy the Mood Plugs individually in the size that is best for you.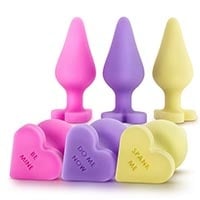 Naughty Candy Hearts/Naughtier Candy Hearts
If you're looking for a cute gift that is Valentine's Day themed, look no further than the Naughty (small) and Naughtier (large) Candy Hearts plugs. Mimicking the popular pastel candy hearts emblazoned with written messages, these plugs have a statement stamped in their heart-shaped bases. The smaller-sized plugs read "BE MINE" (pink), "DO ME NOW" (purple), and "SPANK ME" (yellow). The larger-sized plugs read "RIDE ME" (pink), and "FUCK ME" (purple). The tips of these 100% silicone plugs are nicely tapered, and they widen out a bit more than the Mood Plugs do.
Sex toys are often made in the same old colors: black, purple, pink… rinse and repeat. While there is nothing wrong with those fine colors, it can be fun to shake things up a bit! The Avant Pride series does just that—they've created a series of toys that use the color schemes of various Pride flags. The 4 anal plugs in the Pride series feature representations of Genderfluid Pride, Genderqueer Pride, ACE Pride, and Leather Pride. You can fly your favorite flag, or just enjoy these silicone plugs purely for their beautiful color variations.
Lots of silicone anal plugs tend to be on the firm-yet-flexible side, which is helpful for beginners—firmer objects can be easier to insert as you're learning the techniques of anal penetration. These super soft silicone Egg Plugs from SquarePeg Toys are quite a bit more squishy than the other silicone plugs mentioned in this list, so they may take a little practice (and additional lube). But oh, the squishy softness, once these Eggs are inserted, can be heavenly. These plugs are eminently squeezable, and give a luscious feeling of fullness. Available in 3 sizes.
What's unique about the Fun Factory B Ball? Well, it contains a smaller, weighted ball inside the outer sphere of the plug itself, and that inner ball moves around as you move, causing a gentle feeling of inner motion. For a lot of people, this subtle motion will cause your body to almost involuntarily want to clench your sphincter muscles around the plug, which can be a pleasant sensation. For folks who want to explore different anal sensations, B Ball might teach you a new trick.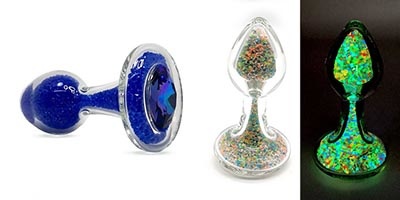 Crystal Delights Sparkle Plugs
For many years, we have been big fans of the beautiful, bejeweled, high quality glass toys made by Crystal Delights. Recently, the company has added a series of sparkling plugs to their selection, and we can't stop staring at them (in a good way). Their Sparkle Plugs are available in multiple colors, and just this past month they released a Glow-In-The-Dark Sparkle plug option, also in many colors! These plugs are quite affordable, and they meet Crystal Delights quality standards—which means a lot coming from them. Oooh, and they even have some sparkling tail plugs, too! See more on their tail options later in this blog post!
Often people who visit our glass and metal toy display case ask the question: why would someone want a toy that is made out of stainless steel? Great question! High quality stainless steel toys are body safe, non-porous, extra smooth, and beautiful to look at. Plus, they are HEAVY. For people who want to feel the weight of a toy inside them, there is no match for stainless steel. These cleverly designed anal plugs by njoy are curved just right to sit happily in the butt, their T-base nestled comfortably between the cheeks. And they have that wonderful heaviness to them. Plus, njoy has been a trusted manufacturer for many years—their stainless steel is of super high quality. Available in 3 sizes (small, medium, and large), plus an XL "2.0" size.
Dildos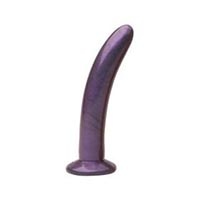 Tantus Leisure
As an introductory anal dildo, the 100% silicone Leisure has a lot of things going for it.  First of all it isn't terribly girthy, with a shaft width of about 1.25" in diameter.  Secondly, it is very smooth with a tapered tip, making insertion easier.  Third, Leisure is cast in a relatively firm silicone, which also makes insertion and thrusting a bit easier.  Finally, Leisure comes with a removable, optional bullet vibe that is placed in the base of the toy.  Vibration, in addition to feeling nice, can help people feel more aroused and relaxed as they prepare for penetration. If you want to add a suction cup to Leisure, Tantus makes one that can fit the place where the vibe normally is housed.
Jimmy is a toy for people who like a little texture in their dildo designs (as opposed to something totally smooth like the Leisure).  The raised veins on Jimmy are plentiful and prominent, and the ridge under the head is also pronounced.  Jimmy is made of a firm silicone, and has a powerful suction cup on its base, which makes this a toy you could potentially use on a flat, smooth surface like shower tiles, a hardwood floor, a dining room chair... let you you imagination be your guide.  The shaft is about 1.5" in diameter at the widest point, and the head is tapered to be much narrower than the shaft, for ease of insertion.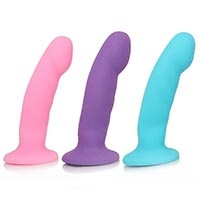 Blush Cici
The Cici's head is a bit more bulbous than we saw in our previous two entries, so it might not be the easiest toy for beginners.  That said, it is made from a relatively firm silicone so it won't bend too much during thrusting.  The Cici has a slight curve, a as well as some very subtle ribbing along the shaft, so you'll also get a hint of texture sensation.  Cici's shaft is about 1.375" in diameter, and it is a bit shorter than our other two entries, but it also comes in at a great price for a silicone dildo.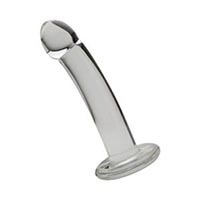 Blown Basic Curve
One of the great things about glass toys is that they feel so frictionless against the body, even when they feature textures like ridges and bumps.  Because their surface is so slick, glass toys only require a little bit of lube to glide nicely.  The Blown Basic Curve is ultra smooth, with no textured design details other than a slight ridge where the head meets the shaft.  You can use it with any type of lube, and its firmness combined with the tapered head helps with ease of insertion. Glass toys are quite sturdy and safe under normal play conditions, but you should always be careful not to drop these toys onto any hard surface to avoid potential chipping or breaking.

Beads
Anal beads can get a bad reputation if you've only been exposed to the cheap plastic kind that come on a string. Poorly-made plastic beads often have rough seams, and strings are impossible to clean after just one use. To step up your bead game, enter the world of 100% silicone beads, where the entire toy, including the connecting "string," is made of silicone. Silicone beads are easy to keep clean and are body safe. This short chain of relatively small-sized anal beads can be a great introduction to bead play.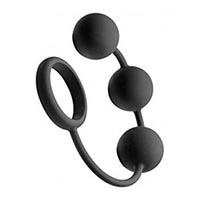 Tom of Finland Silicone Cock Ring with 3 Weighted Balls
On the other end of the bead spectrum is this bad boy!  12 inches in total length, this toy features a silicone cock ring on one end (you can also use the ring as a handle/anal safe base) connected to 3 weighted anal beads.  The beads are all 1.5 inches in diameter, and they have some serious heft to them. The total weight of this item is 9.7 ounces.  The beads are coated in silicone and the connector/ring is silicone, so these beads are easy to keep clean.  Bonus: the artwork on this packaging is by the legendary gay artist Tom of Finland.

Anal-Safe Vibes
If you've discovered you like the feel of beads, and want to add some vibration to boot, then this item may delight you. The vibration of this toy is powerful, and the flexible T-base makes for a comfortable experience. Made from a soft touch silicone, the joints between the Forto's 4 beads are easily bendable. And with 3 speeds and 17 pulse patterns, you'll have plenty of options to choose from!
If you want to combine a more basic/traditional plug shape with some strong vibrations, the Bump offers a great price for a rechargeable silicone toy. Not too big and not too small, this plug can please folks of different levels of experience. The Bump also has a great little feature that makes it unique-- the base of the toy has a recessed power/control button, making it far easier to be able to sit and rock on the toy during play without accidentally shutting it off or changing speeds. Available in black or purple.
B-Vibe has emerged as a manufacturer of quality anal products, and as a champion of body-positive, sexy good vibes! Their flagship toy, the Rimming Plug, is a clever design meant to give special stimulation to the entryway of the anus. The neck of the toy (the narrower area between the T-base and the plug itself) includes a bunch of beads that rotate around under the surface of the silicone. When the plug is inserted, those beads do their magic in the nerve-dense entry area of the butt. The plug also vibrates, so there are multiple levels of stimulation happening here. The Rimming Plug is available in two sizes— their original version (now called the Rimming Plug 2) is pretty big, so beginners and intermediate players may want to opt for the Petite version.

Tails
Do you know someone who has been a very good doggie? Oxballs Silicone Puppy Tail anal plugs are a fun addition to anyone's pup play. Available in two different levels of silicone softness for the plug (regular and the softer "smoosh") and four sizes (PUG/small, BEAGLE/medium, BULLDOG/large, and MASTIFF/XL, these combination plug/tails are waggable and adorable. Woof!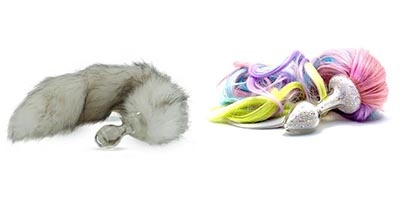 Crystal Delights Faux Fur Crystal Minx Tails
Crystal Delights Faux Pony Tails
As mentioned earlier in the Plugs section, Crystal Delights makes some beautiful, high quality toys. And their tails are no exception. They offer faux fur "Crystal Minx" tails in a variety of colors and types, where the tail portion is attached to their signature clear glass anal plug. Their Faux Pony Tails come in a variety of colors, affixed to their glass plug with a unique screw-off base for ease of cleaning and care. The hair on the Faux Pony tails is vibrant and of a higher quality than we've seen on products made by other companies.

Lube
Any post featuring anal toys would not be complete without mentioning lube! Lubrication is an absolute must for any kind of anal play, because the anus does not lubricate itself. There is no single "right kind" of lube for anal play—as with any lube choice, you'll want to consider the kind of play you're doing, what material your toys are made of, and if your body has sensitivities to certain lube ingredients.
Some people enjoy using thicker, gel-like lubes for anal play. One of the main advantages of thicker lubes is that they don't run off your toys or your body quickly, so it can be easier to keep your lube where you want it during the logistics of inserting a toy anally. To help get the lube where you want it to go, some people use lubricant shooters (plastic syringes) to insert their lube into those hard-to-reach places.
Most of the toys mentioned above are made from silicone (glass and stainless steel being the exceptions). Silicone lubes should not be used with silicone toys, so we've focused on water-based lubes in the list below, knowing they would be safe with any of the items discussed above. But know that you can use any kind of lube with glass or stainless!
The most important takeaway here is to use plenty of lube, go slowly, and communicate with your partner while exploring anal play. Anal sex doesn't have to hurt— in fact, it shouldn't! Pain is your body's way of telling you that something isn't quite right. Think of pain and discomfort as a signal to pause, take some time, regroup, and take whatever next steps you need toward feeling something pleasurable in your body. Listen to your body, go slowly, add more lube as needed, and explore what feels good.

Books about Anal Pleasure
Want to learn even more about the butt? Here are a few books you might want to consider as you explore the ins and outs of anal pleasure!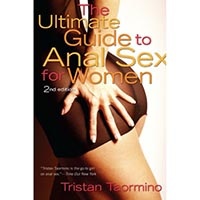 Ultimate Guide to Anal Sex for Women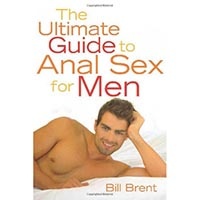 Ultimate Guide to Anal Sex for Men