In the sixth and final entry of our Virtual V-Day 2021 series, we're having a look at a selection of dildos and strap-on harnesses. We've got harnesses for a range of budgets, and quality silicone dildos from some of our favorite manufacturers-- including some brand new items that we're super excited to unveil!

If you're searching for a gift to give, a new thing to try with a partner, get ready to strap in... and strap on.
The Basics
There are two tools you need to enjoy strap-on play with a partner:
1. A harness (sometimes also called a "strap" or "straps"), and
2. A dildo that is compatible with that harness.
That sounds simple enough, right?  Well, it is mostly simple, as long as you follow a few basic guidelines when choosing your harness and dildo combo.  We've outlined some considerations and tips to help guide you through the process.
Consider how the dildo will attach to the harness

In order to successfully strap a dildo into a harness, they have to be compatible with one another.  There are several ways that dildos can attach to a harness; the two most common are:
1. An O-ring type system, or
2. A peg type system
The O-ring system relies on a rubber, metal, or cloth O-ring opening in the front of the harness over the pubic area, though which you insert a dildo with a flared base.  In order for the dildo to stay put, the base must be wider than the dildo's shaft, and also wider than the O-ring itself.  The harness is then worn tight against the body, with the flared base sitting behind the O-ring, keeping everything in place during play.  You can see how this works in the photos below, showing a basic O-ring harness both with and without a dildo inserted into the ring.
The O-ring system is the most common strap-on system by far, as it is versatile and somewhat universal.  The only types of dildos that do not work in this type of system are dildos that don't have a flared base, or dildos that have an unusually shaped base.  Most companies make flared base dildos these days, so an O-ring style harness will afford you plenty of options to choose from.
Peg type attachment systems, such as the popular "Vac-U-Lock" brand system, are the second most common type of strap-on arrangement.  Peg type harnesses place a peg over the the pubic area, and to make the system work you need to choose a dildo that has a hole in its base designed to fit the peg.  Vac-U-Lock harnesses, for example, require dildos that fit specifically over Vac-U-Lock pegs.  While this type of system is rather effective at keeping a dildo attached, it does limit the toys you are able to use with the harness. You can see how the peg and dildo system looks in the photos below.

While there are some other proprietary harness/dildo systems on the market, they are far less common than the two systems described above. Such systems tend to be sold in sets, and they often do not work with products outside one company or brand, so your options are usually quite limited.
The takeaway? Choose a harness system that will allow you some flexibility for the future, so you'll be ready if you decide to branch out to new dildos.
Which style harnesses should I choose?

Harnesses are designed to look and fit in a variety of ways. The design you choose will depend on your personal taste, but you should also take into consideration how a given design might affect your dildo options.
"Traditional" strap-style harnesses often look like a series of straps and belts that go around the waist and legs.  The straps on these harnesses are often made of leather, vegan leather, or nylon, and they typically fasten with snaps and buckles.  These styles usually fit a variety of bodies and sizes, and can be adjusted in more than one way to get a good fit.  The O-rings in these harnesses are sometimes removable, though not always. Traditional straps tend to be good for toys or all sizes, including larger toys.
Underwear style harnesses are styled to look and feel like regular clothing, so they pull on easily, wear comfortably, and are machine washable. A stretchy, soft O-ring is sewn into the front panel of the underwear so you can strap on your toys just like you would with a traditional harness. Because the O-ring is sewn into the design, you can't change it out for another size, so care must be taken to make sure this type of harness will work with the dildo you choose.  Underwear style harnesses vary quite a bit depending on the manufacturer.  Generally, harnesses of thinner material will work with small to medium-sized dildos.  Larger and longer dildos will require thicker material, sometimes with additional layer construction, in order to support the weight of big toys. You can see an example of an underwear style harness in the photos below.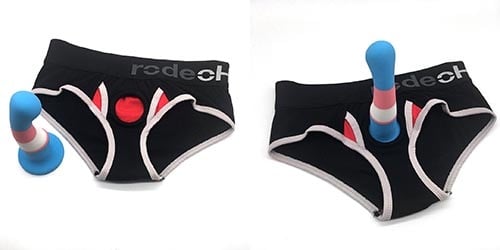 When you are a person with a penis, searching for a harness to fit your body can be a little more tricky.  Fortunately, there are some harnesses designed with exactly this mind-- we will showcase one in our product selection (you can also see that harness in the photo directly below).  A few other harnesses, while designed for folks with vulvas, will still fit regardless of your genital configuration.  Those can be worn with the O-ring placed just above the penis, so long as they don't have extra backing material or leg straps that cannot be routed around the balls.

What dildos will fit best in my harness?

When you are looking through a selection of dildos, you'll notice the design of their bases will differ from toy to toy, and those design differences will affect how easy it is to strap them on.  Here are a few different types of dildo bases in the photo below.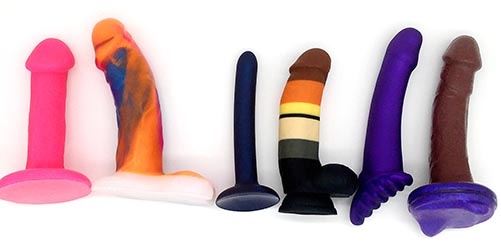 Many dildos have flat, flared, round bases that fit wonderfully in O-ring harnesses (like the pink dildo on the far left)-- those are in some ways the easiest to strap on.  Other toys, especially ones designed to look like a penis, have bases with balls (like the toy to the right of the pink one), which can sometimes interfere with leg straps or O-ring placement in certain harness designs.  Still other dildos have round suction cup bases (like the skinny toy in the center), which can be fine for strapping on as long as they are not too thin.  A super common design seen in more affordable dildos has a balls/suction cup combo base (as seen in the striped dildo), which frankly can be tricky to control in many harnesses.
Then there are some uniquely designed dildo bases that are made to stimulate the person strapping on the harness (see the final two dildos on the right).  These bases might be wedge shaped, textured, or cushioned to rub against the vulva of the wearer.  In the case of items like this, it is often important to choose a harness that places the toy's base as close to the vulva as possible, and allows the toy to make direct physical contact, meaning the harness should not have a backpad or other material that covers the base.
Finally, if you are considering the use of double-ended dildos (where the person strapping on the toy inserts one end of the toy internally), then you should choose a harness with an opening that allows the toy to pass through to the wearer comfortably.
What other things should I consider when choosing a dildo?

Now that we've covered the basics of harness/dildo compatibility, don't forget one final consideration-- picking a dildo that both partners like and is suited to your bodies and your play.
Look for a dildo in a size and shape that will be comfortable to the person on the receiving end of the toy. Pick a length and width that will be pleasurable for that person-- despite what we might have heard in popular culture or porn, bigger is not always better!  Do you like a little texture on your toy, such as ridges and bumps, or do you prefer something ultra smooth?  These preferences should be considered as well as size.
Choose something that appeals to you both in terms of appearance.  Do you want the toy to look like a penis, or do you prefer something abstract or non-representational?  Is there a special color you'd like?
If you're hoping to explore G-Spot or P-Spot (prostate) play, you might want a dildo that features a curved shaft and/or a bulbous head that can put broad pressure on those sensitive areas.
Do you like a soft and squishy feeling toy, or something on the firmer side?  This is a matter of personal preference, but bear in mind that the softer the toy is, the more difficult it can be to penetrate your partner.  Softer toys tend to bend and flex more during play, and may also require a little more lube to keep things going smoothly.  Firmer toys are often easier to navigate for beginning anal play, since beginner toys are often thinner-- thin toys can bend more easily as you thrust.
Finally, consider the materials your dildos are made out of!  Are they skin safe, durable, and easy to clean/sanitize?  What lubricants are compatible with the toy you're considering?  At the Tool Shed, our dildo selection is mainly comprised of silicone toys, because silicone is a skin safe, chemically stable material that is easy to care for-- it will last a lifetime when cared for properly.  Silicone can be formulated into soft or firm densities, with varying surface finishes and in a variety of colors.  Silicone costs a little more than cheap jelly and vinyl dildos, but the trade-offs in quality, safety, and longevity make them a great investment.
And now, on to the straps and dils!
Strap-On Harnesses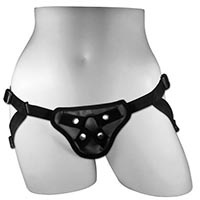 Ember Entry Level Strap On
When you're first starting out with strap-on play, you might not be ready or able to sink a lot of money into a harness. The Ember Entry-Level Strap On is one of the better quality inexpensive harnesses we've been able to find. The construction is strong, the O-ring snaps out if you need a different size (4 ring variety set sold separately), and it doesn't cost an arm and a leg. There are cheaper harnesses out there, but they are often poorly made; we feel good about this one. (Please note that because of the back-pad behind the O-ring on this harness, it will not be suitable for double-ended dildos, or dildos designed to stimulate the person wearing the harness.)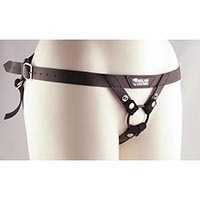 Aslan Commando (leather) and
Aslan Stealth (vegan)
This harness is elegant in its simplicity and versatile by design. You can wear the Commando with two leg straps (jock-style), or you can remove one leg strap and wear it G-string style (one strap running between the butt cheeks), whichever is more stable and comfortable for your body type. The rubber O-ring included with the harness snaps out for replacement, so you can opt for a different size ring if need be (4 ring variety set sold separately). Because of its open design, this harness works with double-ended toys, or dildos designed to stimulate the person wearing the harness. Commando is made of black leather, and is also available in a vegan leather version called the Stealth.


RodeoH Underwear Style Harnesses
Boxer +, Brief +, Crotchless Panty, or Duo
Straps not your style? Looking to avoid snaps and buckles? RodeoHs are styled like regular underwear, so they pull on easily, wear comfortably, and are machine washable. A stretchy, soft O-ring is sewn into the front panel of the underwear so you can strap on your toys just like you would with a traditional harness. Because the O-ring is sewn into the design, you can't change it out for another size, so be sure the RodeoHs you choose will fit your favorite toys. You can take your pick from different styles, including boxers, briefs, and panties. If you're looking for an underwear style harness that works well with double dildos or toys with bases that come into contact with the wearer, check out the RodeoH Duo-- it has two O-ring placements to choose from!
But sure to take actual measurements and follow sizing instructions when purchasing RodeoHs or any underwear style harnesses, as each manufacturer will vary, and sizing won't always match your regular clothing size.
SpareParts is a small company— all they do are harnesses, and they do them very well. A lot of thought and detail goes into their products, which are sturdy and built to last. The Joque is their flagship harness, and it has become a fan favorite since its launch back in 2005. This harness combines the stability, strength, and adjustability of a traditional strap-on with softer, machine-washable materials. The pouch of the harness has a stretchy, sewn-in O-ring that can accommodate toys up to about 2 inches in diameter. The waistband belt is adjustable; Size A fits 20"-50" hips and size B fits 35"-60" hips.
Before the SpareParts Deuce, most strap-on harnesses designed for people with penises were not terribly well-designed… and almost non-existent as a category. This was too bad, because comfortable strap-ons are a boon to couples experiencing erectile issues, or people who simply want the option of penetrating their partner with a toy that is different from the equipment they were born with. The Deuce is a comfortable and stylish harness that features two separate, stretchy O-rings: the lower ring allows the penis to be exposed for stimulation, while the upper ring is used to strap in a dildo of your choosing. Clever users have also purposed this harness for double penetration. Available in a Regular and a Magnum (larger lower O-ring) version, the Deuce comes in two sizes; Size A fits waists 20"-50" and Size B fits waists 35"-65".
Dildos
At 0.875" in diameter, the Fuze Star is one of the narrowest diameter dildos in our collection. In addition to working in most O-ring style harnesses (you might need to switch out to a smaller ring), the base is also a very strong suction cup that you can use on any flat, smooth surface. Because the Star is quite narrow, it can sometimes bend during vigorous thrusting--adding a bit more lube can help with that! 100% silicone.
The Flame is another great item by Fuze, featuring the same powerful suction cup that we saw above on the Star. The Flame is just a bit wider than the Star in overall diameter at 1.125"— it still makes a great intro toy for anal play, and is great for those who prefer a narrower dildo overall. The head and detailing offer some subtle texturing, and it is nicely angled for G-Spot or P-Spot play. 100% silicone.
The Nova is configured with Fuze's signature wedge-shaped base, designed to make contact with the vulva of the person wearing it in a harness. This design allows both partners to feel sensation during strap-on play. Simply add lube to the textured base and position it though the O-ring so the toy makes contact, rubbing against the clitoris. (Harnesses with back pads or other layers behind the O-ring will not work with this type of base.) The base is also fitted with an opening for an optional bullet vibe (sold separately), adding even more stimulation for the wearer. Nova's 1 inch diameter shaft is narrow and smooth, making it a good intro to anal play. 100% silicone.
The Perk also features Fuze's signature wedge-shaped base with optional vibe opening, as detailed above in the description for the Nova. The Perk is a bit thicker than the Nova at 1.4" in shaft diameter, making it a great average sized toy for all-around play. The head has an ever-so-subtle ridge, but the shaft is otherwise smooth and sleek. Plus, the purple color looks electrifying! As in the case of the Nova, harnesses with back pads or other layers behind the O-ring will not work with this type of base. 100% silicone.
If you like the idea of a toy that stimulates both parties during strap on play, then you might want to consider a double-ended dildo like the Fuze Tango.  There are a number of double ended toys on the market, but the Fuze Tango really nails it with their details.  The bean-shaped bulb end, which is designed to be inserted vaginally by the person wearing the dildo, is ergonomically curved to fit comfortably and stay put.  The ridged area where the shaft meets the bulb is notched out so that the wearer will press their clitoris against the base during play, offering stimulation as well as leverage during thrusting.  There is also an opening at the base for an optional bullet vibe (sold separately), adding even more stimulation for the wearer.  The Tango Real uses the same design as the original Tango, but the Real is cast in a softer silicone and is designed to have a more penis-like appearance.   The Tango is available in black, blue, and purple.  The Tango Real is available in 3 different flesh tones. 100% silicone.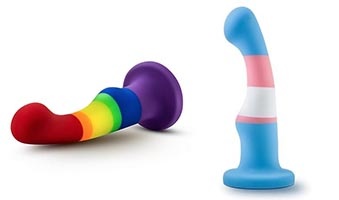 Avant Pride P1 Freedom and
Avant Pride P2 True Blue
The Avant Pride series is a fun collection of silicone toys that come in color schemes based on Pride flags.  The P1 Freedom (rainbow flag) and the P2 True Blue (Trans pride flag) are the same shape, but sport different colors.  The base on these toys works in a strap-on harness, and also doubles as a suction cup that can be used on any flat, smooth surface.  The silicone on these items is of a medium softness, with a soft-touch finish.  100% silicone.
The third entry in the Avant Pride series is base on the Lesbian pride flag.  P3 Beauty is a relatively small toy, measuring in a 5.5" long (5" insertable length) and 1.25" diameter at the widest point on the shaft.  As with the toys above, the base doubles as a suction cup.  The silicone is of a medium softness, with a soft-touch finish.  100% silicone.
The texture and detailing on P8 Love is quite pronounced, 


Vixskin Dual Density in Tie Bright colors
Bandit, Buck, Johnny, Maverick, Mustang, and Outlaw
Let us go on record (again) declaring our love for Vixen Creations Vixskin toys.  Every time we do a gift guide or staff recommendations, we have to mention Vixskin items.  Why?  Because their double-density silicone toys are body-safe, high quality, and feel really awesome! They are great for anyone who wants a life-like looking/feeling toy. Totally worth the investment, these will last a lifetime when cared for properly. During the COVID pandemic, we've struggled to keep our full line of Vixskin items in stock, so we don't have all items in all colors at the moment.  But we did manage to stock up on the brilliant "Tie Bright" colors (shown above).  These are works of art, and make an awesome gift!  100% silicone.
Why is it so difficult to find thicker dildos that are also not impossibly long?  Tantus's They Them meets that need, being 5.5" in length (5" insertable) and 1.6" in shaft diameter.  Good for those who don't want to keep bumping their cervix!  This item is on the softer side and is available in rockabilly blue or silver. 100% silicone.
Speaking of softer items, the silicone on the Shilo is deliciously squishy, and it is formed around a bendable core so you can angle the toy as you like (as illustrated in the photo, above).  Shilo is made by New York Toy Collective, a fantastic little company that produces quality silicone dildos, packers, and other great gear.  You can even add optional swinging balls to Shilo (or any other dildo) with NYTC's Love Bump Balls attachment!  Available in 4 different skin tones, as well as some non-skin tone color combos. Outer "skin" is 100% silicone, with a bendable core in the shaft.
This month, we're excited to add a few dildo designs by Uberrime (pronounced Uber-ree-may) to our store.  The Astra Medium is a fine addition to our non-realistic options-- it is a great size and shape for either G-Spot or P-Spot stimulation, given its flat, angled head.  The relative firmness of the Astra, compared to Uberrime's more squishy toys, makes it ideal for anal strap-on play.  Available in orchid and pearl aqua, these 100% silicone toys are gorgeously marbled in appearance-- no two toys are exactly alike! 100% silicone.
Our next entry from Uberrime is the Essential. Aptly named, this is a great all-around classic dildo that is fine addition to anyone's toolbox.  Essential features a bulbous head, a slightly smaller secondary ridge, and a smooth finish.  Measuring in at 6.75" (insertable length 6"), head diameter: 1.67", shaft diameter: 1.43", this is a size that will please many.  Cast in a medium soft platinum cured silicone, this has some squish, but not too much.  Available in green, blue, and purple. 100% silicone.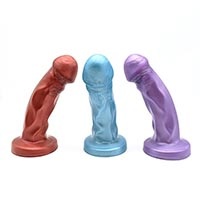 Uberrime Splendid Dual Density Medium
Uberrime's dual density platinum silicone creations feel fantastic, look gorgeous, and are priced very reasonably for products of this material and quality craftsmanship.  Dual density toys feature an inner core of firmer silicone surrounded by a layer of softer silicone on the outside, giving them a squeezable feel while still being firm enough for use.  The Spendid Medium is an average-sized toy, measuring 6" long (5.5" insertable) with a maximum diameter of 1.67". Available in lavender, pearl turquoise, and red oxide. 100% silicone.
Our final entry, the Teuthida, is something we're super excited about!  For years customers have asked us to add a tentacle-style dildo to our collection, and finally we're able to do it.  The Teuthida's design is based on deep sea creatures, with two rows of suckers running down its front and brushed-in horizontal texture on its back.  Made from a soft, squishy platinum silicone, the tip of the Teuthida measures at 0.75" in diameter, and the shaft increases in size to 1.75" at the base.  Available in a blue/green combo (Atlantean) and a purple/silver combo (purple petunia). 100% silicone.
Read More!
Want to learn more about strap-on play?  Check out this guide by Violet Blue: