In this fourth entry of our Virtual V-Day series, we're talking about a fun mix of kinky toys— items that play with the senses and allow you to explore your fantasies. This post features a just a few of the many great kinky tools found in our store, including cuffs and restraints, ropes, paddles, gags, wax candles, puppy gear, and more!

If you're looking for a gift to give, a new thing to try with a partner, or something to treat yourself, these items will hopefully help bring your erotic time to new levels.
What Makes a Toy Kinky?
The term "kinky" can be difficult to define, because in many ways it is a subjective term.  What is erotically boundary-pushing to one person might feel quite tame to another.  And sometimes even the most ordinary toy or object can be used in delightfully creative ways.
When we talk about "kinky toys" for the purposes of this Virtual V-Day selection, we're mostly considering items that are designed to play with our senses.  This sometimes includes items that inflict pain-- but certainly not always!  And we're also talking about tools we can use to explore our erotic boundaries, including through role playing and power-exchange dynamics.
The essence of "kink" is well-summarized in the following passage by sexuality educator Tristan Taormino:
"Kink is an all-encompassing term to describe the people, practices, and communities that move beyond traditional ideas about sex to explore the edges of eroticism."
—from The Ultimate Guide to Kink
We've got a wide variety of fun kinky items in our store; the selection below just scratches the surface of possibilities!
Boundaries, Negotiation, and Safety
As we learn to play with kinky toys-- especially toys that may have the capacity to inflict injury-- we should take the time to learn as much as we can about safety precautions.  For example, when playing with rope, it is important to learn how to safely tie someone up, as well as to think in advance about how to avoid potential mishaps and injuries.  Or when playing with a paddle, it is vital to know where on the body it is generally safer to strike someone, and where on the body you should avoid hitting.
In addition to learning basic safety information, it is also essential for all partners to discuss expectations, desires, hopes, fears, and boundaries BEFORE playing with your new toys. Together, players should negotiate the specifics of a playtime scenario that will be fulfilling and successful for everyone involved!  Communication before, during, and after your play will not only result in safer play, but also more satisfying experiences.
Here at the Tool Shed, we're happy to give you tips on safely using your new toys, as well as guidance on where you might find more information.  In the book section at the end of this post, you'll find several books that can help as you explore and negotiate kinky play.
Fun Kinky Toy Ideas
When people think of handcuffs, their minds often jump to police-style metal cuffs that lock with a little key.  While those kinds of cuffs can be fun for certain types of role play, they aren't necessarily the most user-friendly or comfortable.  Neoprene wrist cuffs like this Kinklab set are softer, easily adjustable, and you don't have to worry about losing the key!  These particular cuffs have been a Tool Shed favorite for many years because they offer a great balance of value and performance.  The hardware clasps are heavy and will withstand hard use, and the materials are well constructed-- all for a good price!
If you're looking to step up into leather restraints, these fleece-lined cuffs are well constructed, reasonably priced, and come in a variety of color combinations.  The lining is a soft faux fur, for comfort and cushion.  The buckles of these cuffs are able to accommodate a small padlock (sold separately) to keep them in place.  Available in both wrist and ankle sizes.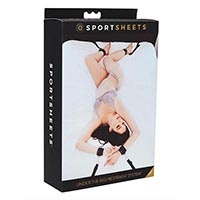 Under The Bed Restraint System
So want to restrain your beloved by cuffing them to your bed... but your bed doesn't have posts or a headboard where you can attach the cuffs.  What to do?  Enter this Under The Bed Restraint system, which uses straps and the weight of your mattress to keep your honey tied down.  This set comes with two pairs of adjustable cuffs, four 60 inch restraint straps, and one 60 inch connector strap. Just slide the restraint straps under the mattress for an instant bondage bedroom. You can tuck the straps and cuffs away under the mattress when not in use, and simply pull them out when you're ready!  This set is a great value for beginners, and you can always upgrade the cuffs at a later date if you wish while still using the strap system.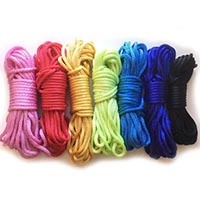 Venus Ropes Nylon Solid Braid Rope
We offer a number of types of bondage rope in our store, but the brilliant colors of Venus Ropes really stand out as true eye candy.  Their hand-dyed, solid braid nylon is high quality-- no cheap, hollow hardware store rope here!  The ends of this rope are whipped with cotton thread and singed to prevent fraying.  Available in 7 gorgeous color options, and in 30-foot or 50-foot lengths.
Don't forget your safety scissors when purchasing rope, in case of emergency!
Cotton bondage rope is often recommended for beginners, as it is relatively inexpensive, holds knots well, and easy to manage as you are learning how to tie.  This cotton rope is a soft to the touch, and well constructed.  It comes in 32-foot lengths and in 2 colors (black or red).
Don't forget your safety scissors when purchasing rope, in case of emergency!
Paddles can offer a number of different sensations, depending on their size, shape, and the material they are made of.  This fun little number is approximately the size of a ping-pong paddle, and it offers two distinct sensations, depending on the side you use.  The leather side offers a bit more of a stinging sensation, while the faux fur fleece side is softer and more forgiving, while still making a satisfying sound against the skin.  The fleece side can also be used to stroke over the skin gently, for a more sensual feel.  Available in 4 color combinations.
Sometimes you want to inject a little adventure into your play, but don't have a lot of money to spend.  This mini paddle is a relatively unthreatening and fun intro for those want to begin exploring spanking without breaking the bank.  Available in two colors, made of vegan leather.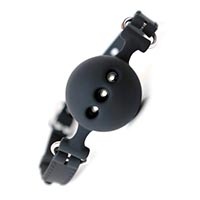 Breathable Silicone Ball Gag with Silicone Strap
Maybe your next scene could involve silencing a sassy bottom, but you don't want your play to be interrupted or ruined by impeding their ability  to breathe.  Some folks just can't breathe easily of their nose, so this silicone ball gag has 3 holes molded through the center to keep the air flowing during play.  This is a vegan option-- the strap and the ball are both made of silicone.
For people with small mouths or who may experience jaw pain, a traditional ball gag may be too large or uncomfortable to wear for long periods.  Silicone bit gags are a great alternative for those folks, as they don't require the mouth to be open nearly as wide.  Bonus: bit gags are also fun props for pony play!
Dripping melted wax onto the skin is a sensual experience enjoyed by many folks.  When drizzling these paraffin wax candles onto someone's skin, be sure to begin with the candle held some distance above the recipient, so that the wax has time to cool down in the air as it falls.  You may also wish to choose a less sensitive area of the skin for your first experiments.  Once you have established your comfort zones, you can then slowly adjust the candle distance to turn up the intensity, if desired.

Kink Swell Vibrating Nipple Suckers
Suction and vibration in one toy?  Yes, please!  Just place the transparent cups over the nipples, power on, and let the suction begin. Powerful multi-function vibrations with separate controls for each cup raise the intensity even higher.  Swell has seven vibration functions and powerful auto-pump suction. Cups are made of phthalate-free TPE. Takes 2 AA batteries (not included).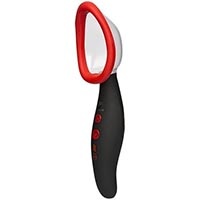 Kink Pumped Vibrating Vulva Pump
This rechargeable electronic pussy pump is placed over the vulva (including clitoris and labia) to create a seal, and then suction draws more blood into the entire area, swelling the genitals, which for many people increases sensitivity.  This little powerhouse has 3 pumping speeds and 7 vibration modes. Additional features including an instant air release button and USB charging.
Has someone been a good pup?  Treat them with a soft neoprene hood in their favorite color scheme! The main body of this puppy mask is made of black neoprene, while the inner ears, brow, and sides of the snout are made in a contrasting-color neoprene. The snout/mouth piece is detachable, and the ears contain a firm insert that is bendable-- you can stand the ears at attention or curve them as you wish. Available in two sizes, and the available contrast colors are blue, brown, purple, red, and white (also available in all black).

Kookie Post and Ring Spike Collar, 2 color
We offer a number of bondage collar designs here at The Tool Shed, but we are featuring these here because they make a great accessory for your puppy play gear.  The main body of this collar is a black leather, accented by two stripes of contrasting color leather sewn above and below a row of chromed spikes.  Attach your favorite leash to the post ring at the center.  Available in 3 color combinations and two sizes.
Anal plug puppy tails are fun and sexy, but they aren't practical for showing your pup pride while out and about.  These non-insertable silicone show tails can be worn outside your clothing, attached to an ordinary belt using a special adapter (sold separately).  Available in 6 color options.
Books
Want to learn more about the world of kink, including skills and techniques, safety, communication and negotiation skills, role play and power exchange dynamics, community etiquette, and more?  Check out some of our favorite kink titles below!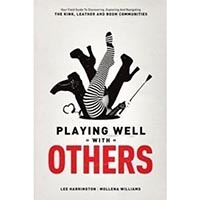 Playing Well With Others: Your Field Guide to Discovering, Exploring and Navigating the Kink, Leather and BDSM Communities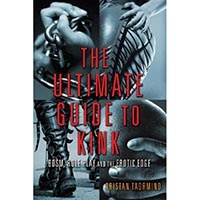 Ultimate Guide to Kink: BDSM, Role Play and the Erotic Edge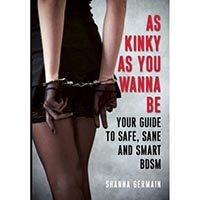 As Kinky As You Wanna Be: Your Guide to Safe, Sane and Smart BDSM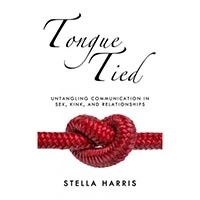 Tongue Tied: Untangling Communication in Sex, Kink, and Relationships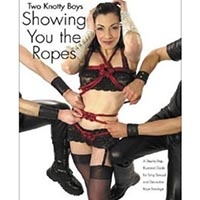 Two Knotty Boys Showing You The Ropes: A Step-By-Step, Illustrated Guide for Tying Sensual and Decorative Rope Bondage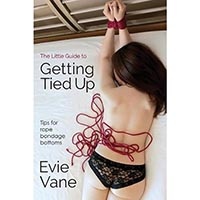 The Little Guide to Getting Tied Up: Tips For Rope Bondage Bottoms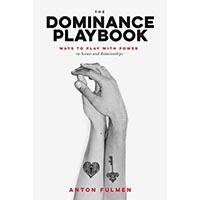 The Dominance Playbook: Ways to Play With Power in Scenes and Relationships
For even more ideas, check out our full selection of Kinky instruction books!