Valentine's Day is a great time to show love and appreciation for the people that are important in your live (including yourself). Because the world is always better when we love more.
Valentine's Day is traditionally about the celebration of romantic love. For some of us, it is a super-fun day spent with our partner that we look forward to with glee! For others-- those of us who are not romantically attached, or who don't fit into typical models of intimate relationships-- V-day can feel less inspiring.
At the Tool Shed, we like to think of Valentine's Day as a reminder to show love and appreciation to those closest to us-- that includes self-love/self-care, caring for our close friends and family, and caring for our communities. And yes, that can include showing some special appreciation for our romantic partners, too.
Of course, you don't have to buy a gift to show you care for someone! Quality time spent together is a great gift, on Valentine's Day and every other day of the year.
But if you are looking to get a gift for a loved one, we've got lots of cool stuff and we're happy to help. Check out the list below for some fun and unique gift ideas!
Valentine's Gift Ideas for $30 and under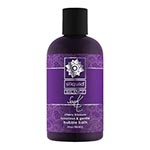 Sliquid Soak   $12.00
One of the best gifts you can give someone you care about is a little pampering and TLC.  This could mean a massage, a movie night, or even a nice warm relaxing bath. Bath-time is where Sliquid Soak comes in! This aromatic, foaming bath soak is both soothing to the skin and gentle on the most intimate areas. And it smells lovely.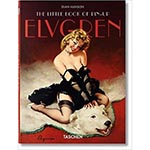 "Little Book" Series of Erotic Art   $10.00
For lovers of erotic art, we've got titles from Taschen featuring classic 20th century classic pinup art by Vargas, Elvgren, and Driben, as well as 3 volumes featuring the iconic gay artwork of Tom of Finland.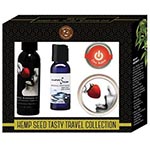 Earthly Body Tasty Travel Collection   $16.00
This kit has travel-size items that are great for a night of sexy times at a hotel, or for a "staycation" night at home. Contains Waterslide lubricant, Edible Massage Oil, an Edible Massage Candle, and Love Button arousal balm, all in convenient airline-friendly sizes.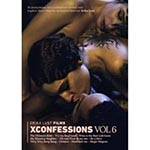 DVDs by Erika Lust   $29.00
Looking for some visual erotic adventure?  Erika Lust's erotic films have truly reworked the tired old tropes that make up the vast majority of mainstream porn. Elle magazine calls Lust's work "intelligent, innovative and thrilling," and we couldn't agree more.  Plus, the visual quality of her work is top-notch.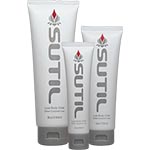 Sutil Lubricant   $15.00
There are plenty of things to love about this lube. Sutil is a water-based lubricant made with the finest botanical Eco-Certified ingredients. It is long lasting, paraben-free, glycerin-free, and it comes in a biodegradable tube. And we've now got flavored Sutil as well!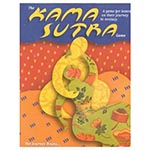 Kama Sutra Game  $23.00
We recently had our intrepid Tool Shed staff go through each and every game on our shelves to provide in-depth descriptions and reviews of the games we have to offer.  The Kama Sutra game is one of the most sensually-focused games in our selection. The object of the game is to develop a deeper understanding of what you and your partner desire and want in your intimate relationship. 
Valentine's Gift Ideas from $31 to $79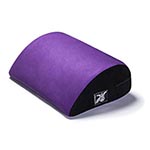 Liberator Jaz Motion  $59.00
Sometimes, little things can make a big difference in our sex lives.  Liberator shapes like the Jaz Motion can offer support and improved positioning for those who may have limited mobility or discomfort in certain sexual positions.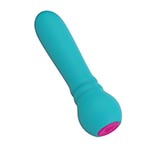 Ultra Bullet  $59.00
There is a lot to like about the Ultra Bullet.  It is small, but it packs in a lot of power and has 20 functions.  It does not contain a hard plastic interior, but rather its structure is made of silicone, giving it more flex and softness than other bullet vibes.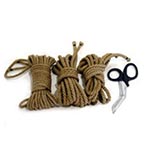 Twisted Monk Hemp Rope Starter Kit  $62.00
Have you or your partner been curious about rope bondage, but not sure where to start?  The Twisted Monk has your back with a lovely starter kit of organic, fair trade hemp rope, EMT safety shears, and an instructional DVD ("Getting Started with your Twisted Monk Rope", vols. 1 and 2).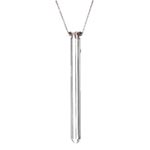 Crave Vesper Necklace Vibe  $69.00
At the intersection of elegance and delight, Vesper is both a gorgeous piece of jewelry and a strong slim vibrator. Wear it out on the town and be ready for adventure!  Made of highly-polished stainless steel.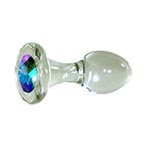 Crystal Delights Jeweled Glass Anal Plugs  $79.00
Crystal Delights erotic objects have been designed for both intimate and aesthetic enjoyment. Each beautifully crafted piece is designed by skilled artisans. A genuine Swarovski crystal element is embedded in the base, offering a visually stunning experience.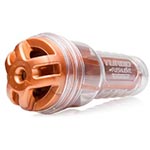 Fleshlight Turbo  $69.00
Lots of guys have heard of the Fleshlight, but not many folks know how many variations in design are available on this classic toy! The Fleshlight Turbo is uniquely designed with three points of initial insertion, to mimic the sensations of oral sex. Plus it comes in two badass colors and has a futuristic look.

Valentine's Gift Ideas from $80 and up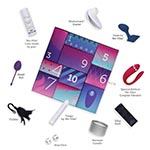 We-Vibe Discover Gift Box Set   $237.00
This gift box is a great introduction to the super popular We-Vibe and Womanizer toys, all at a really good price! The set contains 10 wonderful and sexy surprises, individually boxed. The box and presentation are lovely and colorful, and are suitable for holiday, birthday, anniversary, wedding, or lots of other gift-giving occasions.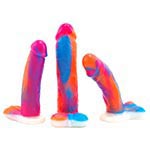 Tie Bright Dildos by Vixen  $96.00 - $115.00
In recent months, Vixen decided to offer their funky and beautiful "Tie Bright" multi-colored option in several of their most popular Vixskin dildos.  Vixskin is an amazing, body-safe, dual-density 100% silicone formula that feels awesome and is highly praised by sex toy aficionados everywhere.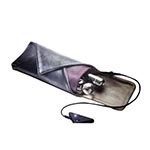 Warm Toy Warming System  $139.00
Anyone who has experienced our cold Wisconsin winters knows how unpleasant it can be to encounter the cold against your skin at an inopportune moment.  The designer behind the Warm toy warming system feels your pain, and has created a plug-in case that can bring your favorite toy up to a pleasantly warm temperature before use.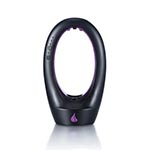 Touch Lube Warming System  $119.00
From the same folks who brought you the Warm Toy Warming System comes a hands-free, warming lubricant dispenser!  Cold lube can be a mood killer, and fumbling around with a slippery bottle can be frustrating.  Touch allows you to simply pass your hand through its sensor and it dispenses warm lube directly into your palm.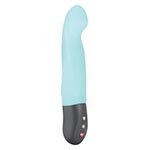 Stronic Thruster  $199.00
Do you sometimes wish that you had a toy that would move rather than vibrate?  The Stronic line from Fun Factory does just that. The innovative motor technology produces a pulsating, deep and thrusting rhythm. You can select from 7 speeds and 3 rhythm patterns on easy-to-push buttons.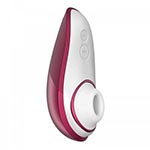 Womanizer Liberty  $99.00
Using PleasureAir technology, Womanizer Liberty provides gentle suction in combination with vibration. This sensation is quite unique, and has received many rave reviews from sex toy connoisseurs and beginners alike.The compact and attractive Womanizer Liberty is suited for those who like a travel-friendly toy.