Still shopping around for great holiday gifts? Looking to treat yourself? Here's a roundup of some of the newer items we've added in time for the holiday shopping season.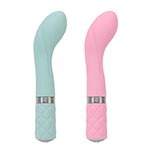 Pillow Talk Sassy G-Spot Vibe $49
This vibe has a lot going for it: rechargeable, powerful, rumbly vibes, great shape, and a great price for an item of this quality.  For people who love sparkles, the power button on the handle is a Swarovski crystal!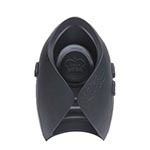 Pulse Solo Essential $99
The Hot Octopuss Pulse recently got a redesign, and this is the latest version of this game-changing penis vibe. The oscillating pulse plate creates deep sensations that are designed to stimulate the frenulum on the penis (the sensitive area on the underside of the head).  This item is especially great for people with erectile issues, as the Pulse Solo can be used with or without and erection.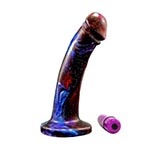 Leo Galaxy $60
Vixen Creations, who make truly awesome high-quality silicone insertable toys, have come up with a new colorway called "Galaxy," and it is truly gorgeous.  Each Galaxy item is unique and makes you want to look at photos from the Hubble telescope. Or maybe that is just me. Anyway... the popular "Leo" with vibe is now available in Galaxy!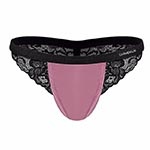 Carmen Liu Panties for Trans Women $25.50 - $27.50
For the trans woman or non-binary person in your life who is looking for tucking underwear that is both functional and super attractive, we've got these wonderful new panties from across the pond in England.  Trans designer Carmen Liu has created a line of lingerie for by and for trans women, and we're proud to be the first shop in the U.S. to offer them!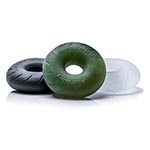 Perfect Fit Cruiser Ring $20
This squishy, stretchy cock ring gets the job done while still being comfortable.  Plus, it looks pretty badass, and the army green is a unique color option. A great choice for those who find narrow rings too pinchy-- the wider size helps distribute the pressure more evenly.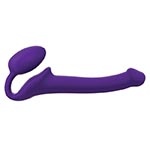 Strap-On Me $69-$79
If you've ever worn a "strapless" strap on, you know that there are always challenges to these toys, and one of them is the dreaded "droop" of the shaft due to gravity.  This clever design features a bendable-yet-sturdy neck between the bulb and the shaft of the toy, helping to keep the item from drooping. Plus, some folks have found that narrower neck to be more comfortable.  Available in two sizes and two colors.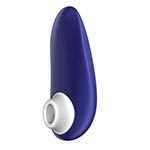 Womanizer Starlet 2 $79
Womanizer (still a terrible name for a really great toy) has rebooted their entry-level Starlet to be a little bit larger and more ergonomic, with improved buttons.  The colors (coral and blue) are also new and not the usual colors we tend to see again and again.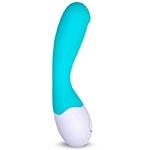 Lovelife Cuddle, Turquoise $69
Speaking of new colors... this old standby was, for many years, only available in pink.  Which is awesome for pink-lovers, but not so great for those who wanted a not-pink option.  The new turquoise Cuddle is beautiful, and the box for this item is very "gifty"-- sturdy, with lovely artwork, and is nice enough to use for permanent storage if you want.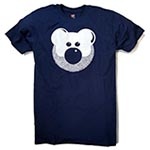 Burlyshirts T-shirts $20
We added these fun t-shirts to our selection this year, and couldn't be happier with the fun designs and the quality.  And if you know anything about us, you know we've got a thing for bears... so the shirt shown above especially stole our hearts.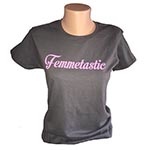 Femmetastic T-shirt $18
We created this shirt ourselves to celebrate all the wonderful femmetastic people in our community.  Check it out, along with the numerous other awesome shirt designs we've got in store.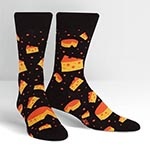 Sock It To Me Socks $10
The winter cold reminds us that it is time to retire our old, holey socks and replace them with something cuter.  Sock It To Me socks have been a mainstay in our store for over a decade, and they never cease to please. We've got plenty of designs to choose from, and some are even on sale!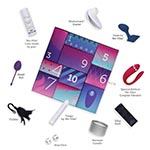 We-Vibe/Womanizer Discover Set $169 (was $237)
While technically this isn't a new item, the much-lowered price on this set is new!  This gift box collection from We-Vibe and Womanizer is a great introduction two of our most popular toys, plus it contains 8 more wonderful and sexy surprises.  Each item is attractively individually boxed inside the big gift box, so if you want to do an advent calendar-style presentation of a gift a day for 10 days, this makes it easy!