In-store Toy Parties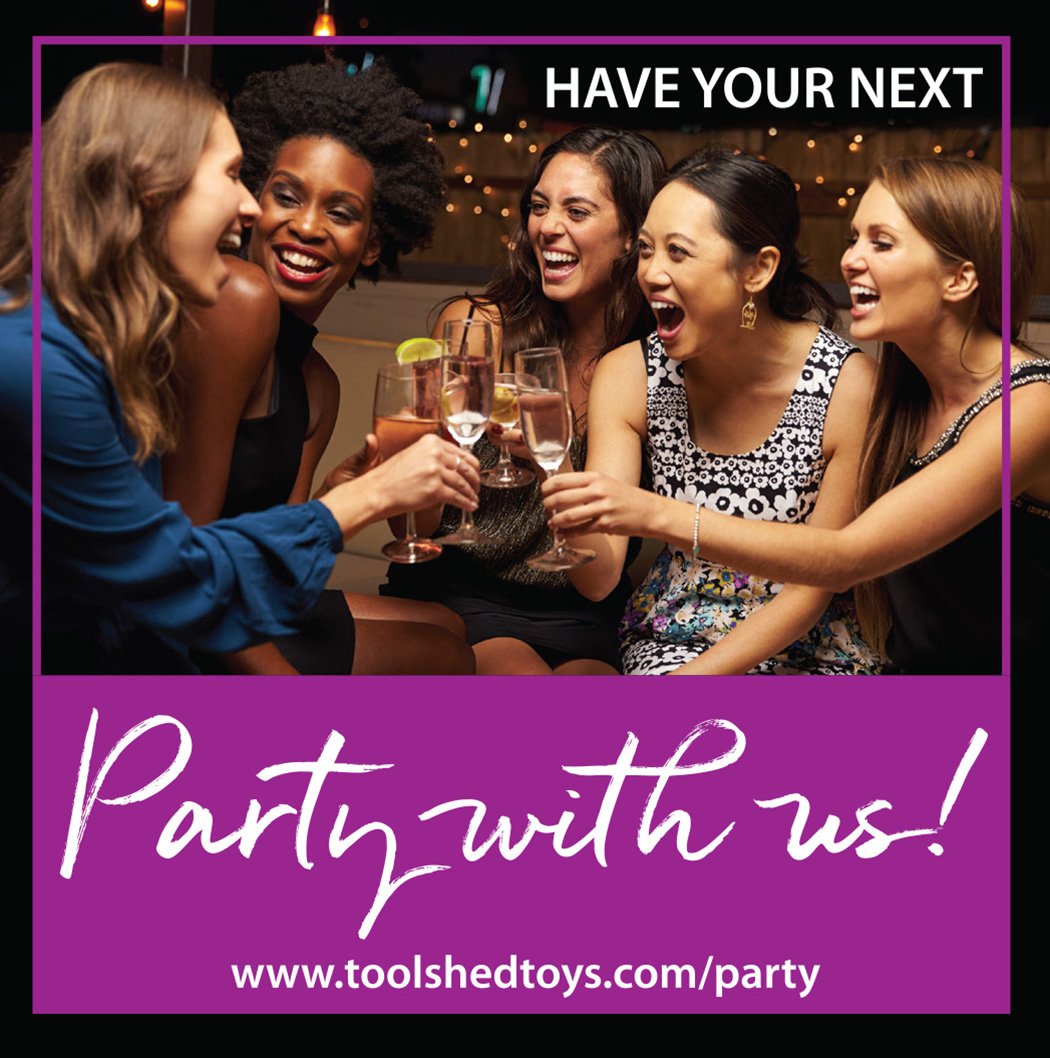 PLEASE NOTE:

Due to the concerns around the COVID-19 virus and large in-person gatherings, our in-store party service is temporarily unavailable as of March 15, 2020.  We are watching the developments around this virus closely, and will offer this service again in the future when it is safe to do so.  Thank you for your understanding, and stay safe!

Part of the Tool Shed's mission is to educate and empower people to take control of their sexual health and pleasure. To this end, we offer custom "Tool Parties" that aim to both provide factual information about sexuality and give people a chance to learn about and purchase sex toys in a comfortable, private environment.

Tool Parties are held in the store after our regular shopping hours are over. In-store parties allow for private browsing through the shop's complete selection of gifts, toys, books, and body products. Many groups have chosen to make an in-store party just one stop during a fun evening out on the East Side!

A Tool Party makes a great bachelorette party, birthday party, or fun night out. Parties last approximately two hours and provide an educational and fun experience– presenting and explaining toys, lubes, resources and sex tips.

A sexuality educator will kick off your evening with a short educational presentation-- you can choose your topic from the list below. She will then be at your service to answer questions and explain how our toys work as you and your guests socialize and roam the store. You can bring your own snacks and beverages to make the event as festive as you want (just let us know ahead of time so we can help you set up)!

Party hosts can choose their topic from the following options:
Sex Toys 101 (anatomy, orgasm, sexual response and how different types of toys can be used alone or with partners)
Toys for Boys (male anatomy, prostate stimulation, and toys designed for use by men, alone or with a partner)
Hitting the Spot (the G-spot, female anatomy, G-spot stimulation, and female ejaculation.
Kinky Toys 101 (an introduction to toys and gear used for restraint play, sensation play, and role play)
Parties work best with a minimum of six guests and a maximum of twenty four.
Tool Party Pricing
Hosting a Tool Party is free, though we do require a deposit to hold your party date.
Once we have finalized a date for your party, we require a $25 deposit from the party host (via cash or credit card). This deposit will be credited to the host at the time of the party. If you cancel your party less than a week in advance, the $25 deposit cannot be refunded. This policy helps ensure that as many dates remain open for potential party hosts as possible.
Contact Us to Set Up Your Party
To set up a private party, please use the "Contact Us" form on our Customer Service page to provide the following information:
1. Party host name
2. Party host e-mail address
3. Number of guests (minimum 6 guests)
4. Party date (if possible, provide more than one date option)
5. Which topic would you like to cover?
Choose one: Sex Toys 101, Toys for Boys, Hitting the Spot, or Kinky Toys 101
6. Best way to contact you
7. Anything else we should know?
Once you have submitted this information, we will get back to you within 24-48 hours of receipt of the message.